Asian Studies Alumni/Grad Connections (Part 1)
October 12, 2023 | 5:00 PM-6:00 PM (EST)
Asian Studies Alumni/Grad Connections (Part 1)
Join us in this year's Asian Studies Alumni/GradConnections live webinar to learn about what one of our distinguished graduate alumni and one of our current grad students have achieved academically and professionally with their Asian Studies degrees.
This event will be moderated by Dr. Steven Heine, Professor and Director of Asian Studies. We hope that their pursuits can inspire you!
Event is free and open to the public.
For questions, please email the Asian Studies Program at asian@fiu.edu.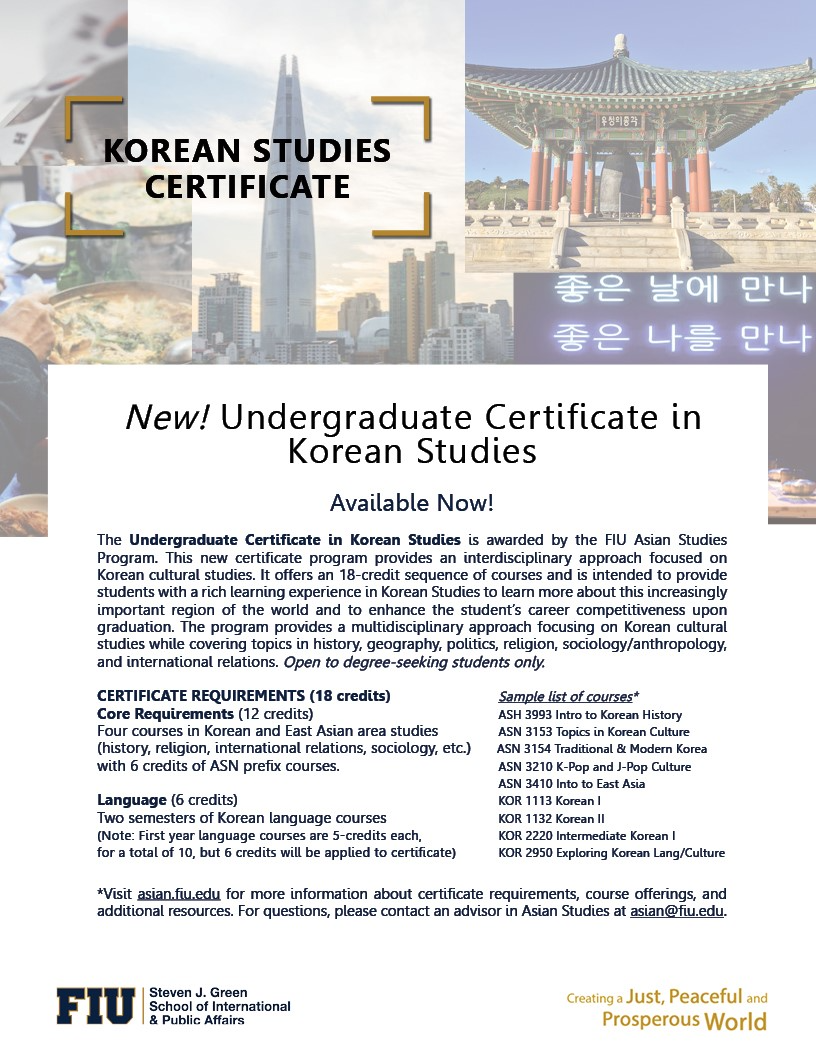 Greetings Asian Studies students and Faculty,  
This is a reminder that our new Undergraduate Certificate in 

Korean

 Studies is available now! 
Students interested in signing up are encouraged contact one of our advisors at asian@fiu.edu.
This certificate program offers an 18-credit sequence of courses and is intended to provide students with a rich learning experience in 

Korean

 Studies to learn more about this increasingly important region of the world and to enhance the student's career competitiveness upon graduation. The program provides a multidisciplinary approach focusing on 

Korean

 cultural studies while covering topics in history, geography, politics, religion, sociology/anthropology, and international relations. This certificate program is open to degree-seeking students only.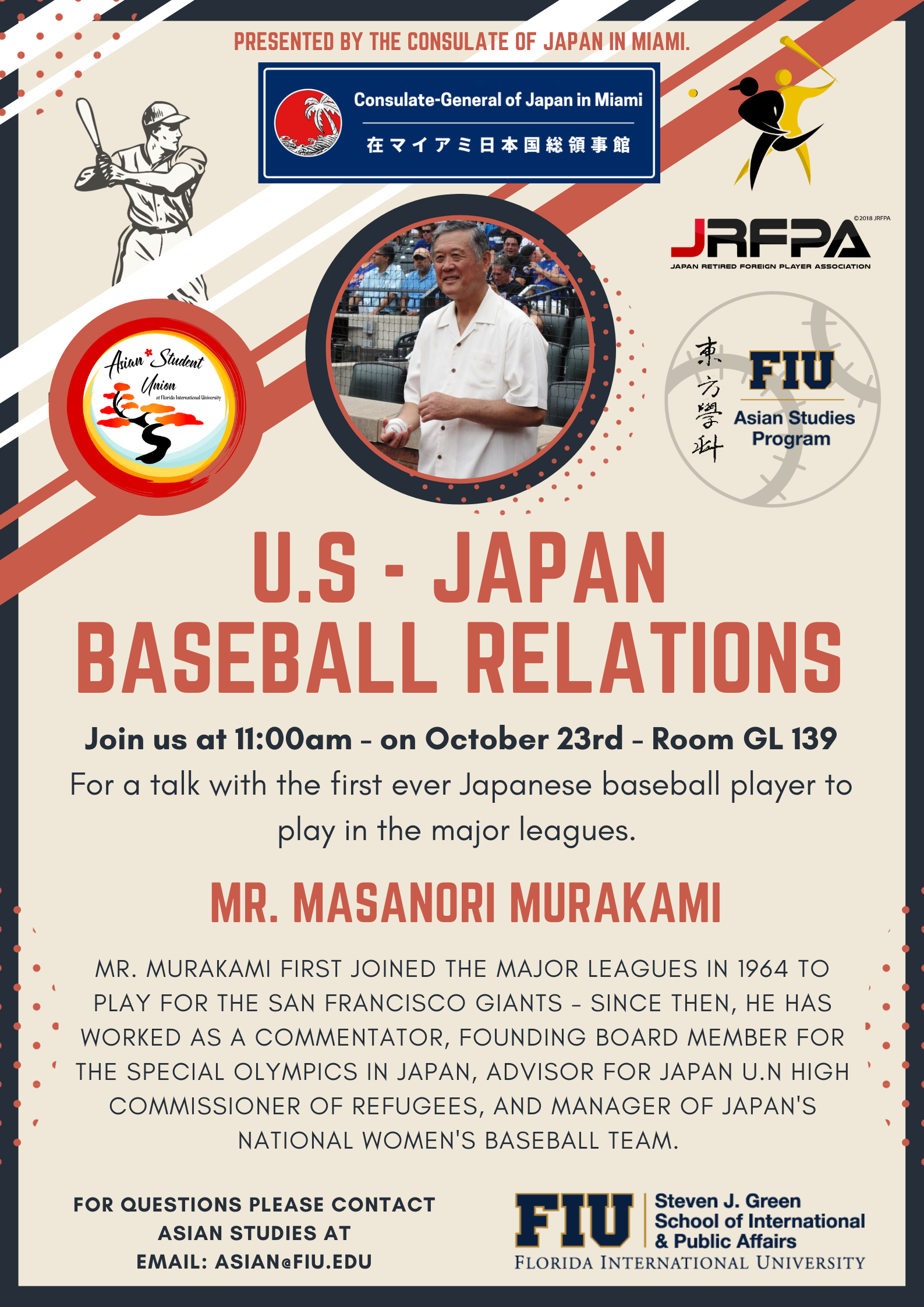 October 23, 2023 | 11:00 AM (EST)
US-Japan Baseball Relations: Lecture by Mr. Masanori Murakami 
In-person event: Room

 

GL 139
Presented by the Consulate of Japan in Miami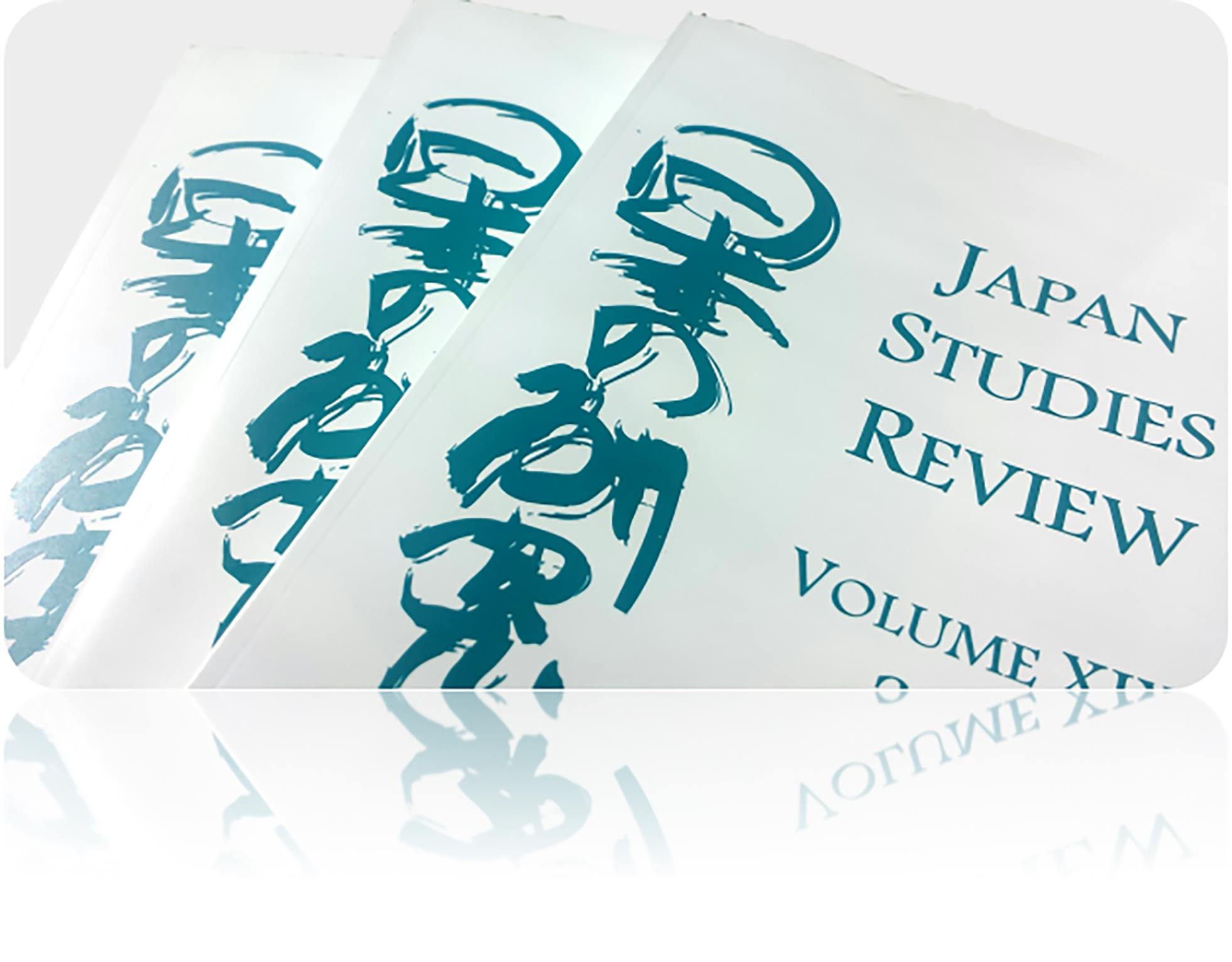 This year's Japan Studies Review (JSR) is now available online.
Hard copies will be available soon.
  Please visit our archive for online versions of the current and past volumes.
The Japan Studies Review is a refereed journal published annually by the Asian Studies Program at Florida International University. As a publication that addresses a variety of cross-disciplinary issues in Japanese studies, JSR includes contributions dealing with practical and theoretical topics in the areas of business and economic issues, politics, education and curriculum development, philosophy and aesthetics, gender issues, popular culture, and immigration issues. JSR remains an outlet for publications related to Southern Japan Seminar events and encourages submissions from a wide range of scholars in the field.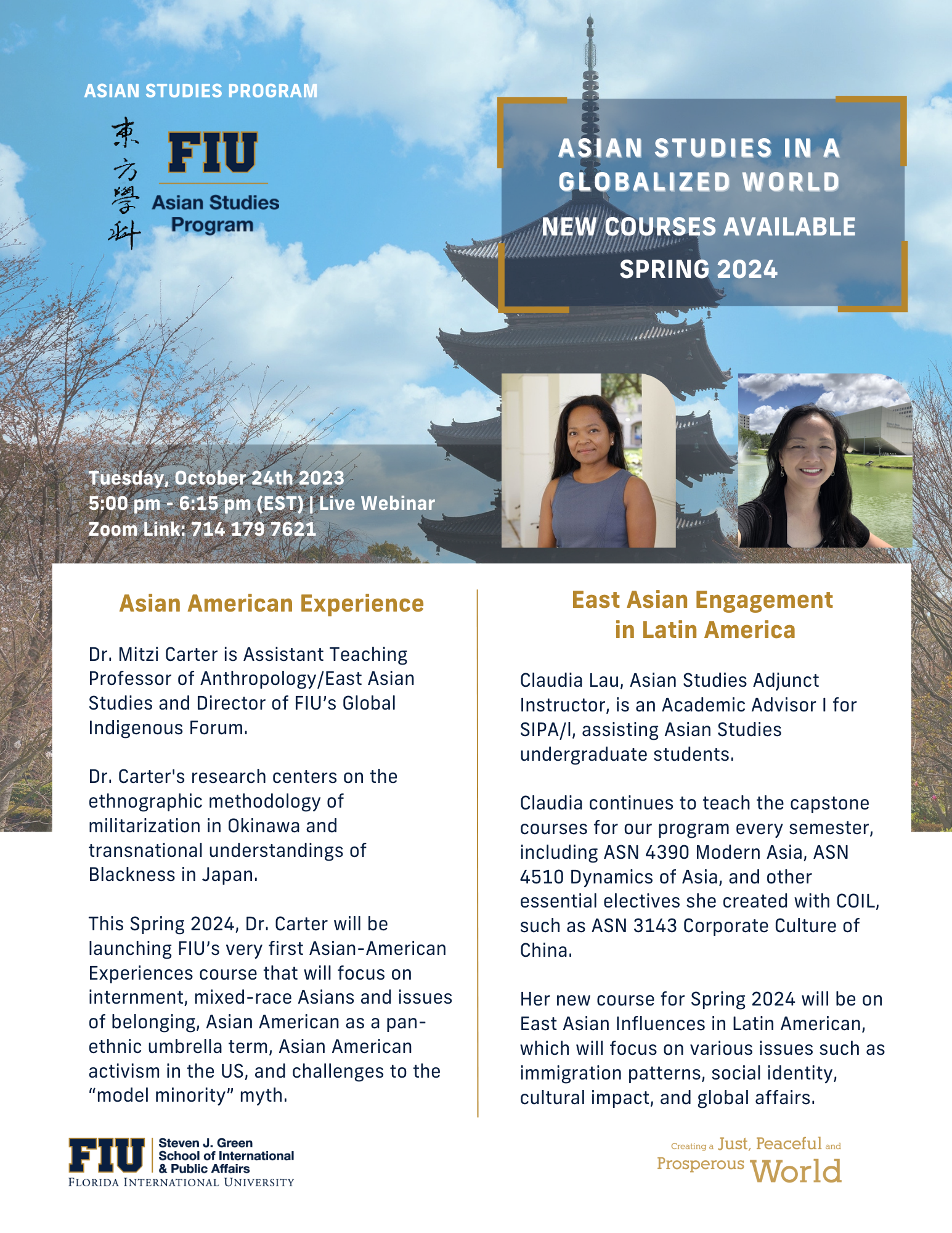 October 24, 2023 | 5:00 PM-6:15 PM (EST)
Asian Studies in a Globalized World (WEBINAR)
Panelists: Dr. Mitzi Carter and Claudia Lau

Zoom Link:

 

https://fiu.zoom.us/j/7141797621