Japan Foundation - Institutional Project Support - SFPJS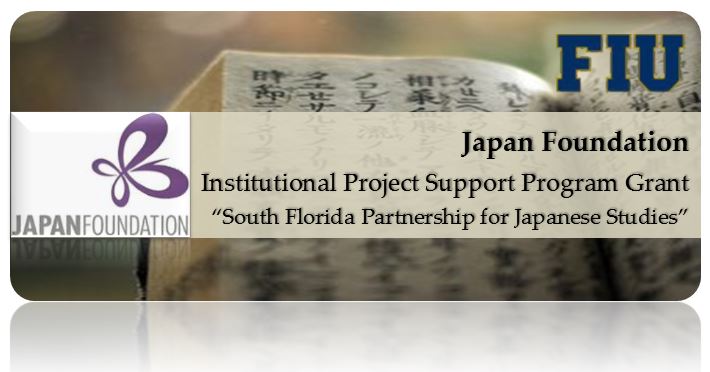 The Asian Studies Program has received an Institutional Project Support Program Grant from the Japan Foundation, for a collaborative project called "The South Florida Partnership in Japanese Studies (SFPJS) Housed at FIU."
This project lasting from 2013-2017 will greatly enhance knowledge and critical analysis of Japanese history and culture through developing an interdisciplinary curriculum and supporting a multi-institutional consortium for promoting research, teaching, and outreach. The project is directed by Dr. Steven Heine, who has been involved in numerous Japan Foundation-funded grants. The SFPJS partners include Florida Atlantic University (FAU), the Morikami Museum & Japanese Gardens, and the Florida Delegation of the Southeast U.S. / Japan Association (SEUS / Japan). The SFPJS also collaborates with outreach organizations including local community colleges, such as Miami-Dade College and Broward College, in addition to the Association of Florida Teachers of Japanese, Miami Hoshuko, and the Japanese Business Association of Miami.
The primary goal is Staff Expansion through the establishment at FIU of a new full-time, tenure-track Assistant Professor position in Japanese History with an emphasis on the pre-modern period and engagement with transnational issues. The faculty member who holds the new position will expand studies of Japan as part of the undergraduate and graduate programs of the Asian Studies Program at FIU, which has been growing rapidly in recent years, and will also enable the SFPJS to create an integrated approach to scholarship, instruction, and service. Additional goals include Curriculum Development through course infusions at FIU and FAU; Research Conferences or faculty development workshops for specialist and non-specialist faculty in History and other departments; Library Support to build the vernacular and digital collections; Publication Support to expand the scope of the Japan Studies Review, an annual peer-reviewed journal; Study Tour or research travel to Japan for faculty or graduate students; and Miscellaneous items, including an external consultant and clerical assistance.
For each of the first 3 years of the grant, the following opportunities will be offered to faculty or grad students in Japanese Studies or outside the field (includes Chinese or non-East Asian global or comparative studies):
This news story was recently featured on FIU News: "FIU, Japan Foundation launch The South Florida Partnership in Japanese Studies" by Evelyn Perez. It was also featured on the Sun Sentinel on July 19, 2013: "Japanese culture gets boost in South Florida" by Scott Travis.