Asian Studies Alumni Success Stories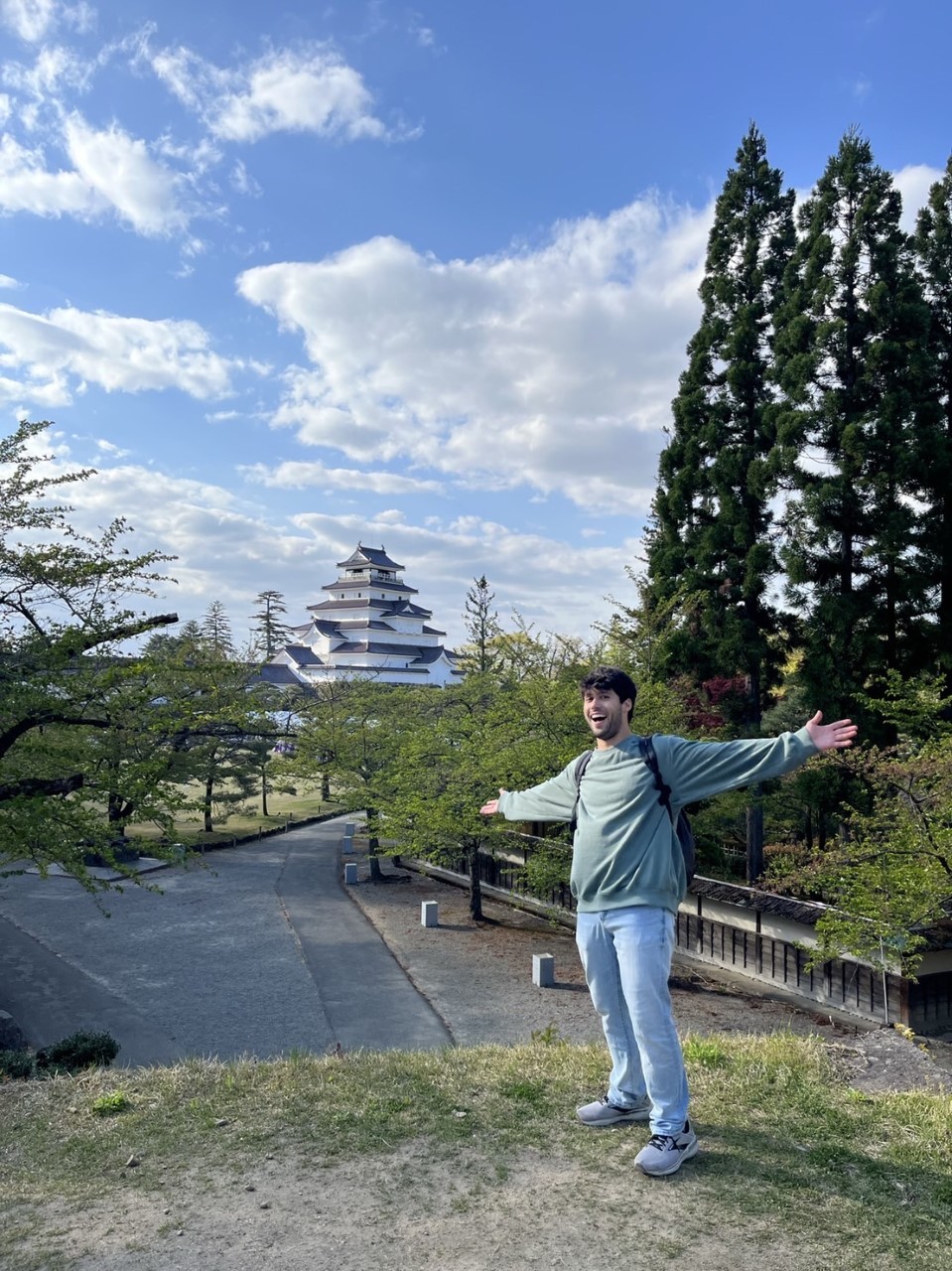 Alumni Spotlight
Brian De Aguiar is a recent Asian Studies M.A. graduate who has had the opportunity to travel to Japan under the JET program. He is currently living in Tajima, Fukushima, a rural town of less than 10,000. Brian is continuing his research while teaching English in Japan! Here is a picture of Brian in front of Tsuruga Castle, Fukushima, Japan.
Notable Asian Studies Alumni | Recent Highlights
Darius Barnes (M.A. 2022) was accepted to the Ph.D. program in Japanese History at the University of Illinois.
Phillip Guerreiro (M.A. 2018) successfully defended his dissertation and graduated with a Ph.D. in International Relations from FIU in the Spring 2023. Phillip received the Dissertation Year Fellowship to support his research on China's hydropower development.
Ivan Jiménez (M.A. 2022) was accepted into the Ph.D. program in Politics and International Relations at FIU. He received the National Bureau Research Institute award to study Mandarin at the National Taiwan University Intensive Chinese Language Program in Taipei. 
Ritu Krishna (M.A. 2022) was hired as Anti-Trafficking Task Force Intern for the International Rescue Committee in Seattle.
Rachel Levine (M.A. 2019) is a Ph.D. Candidate in East Asian Studies at the University of California, Santa Barbara. She was awarded the Fulbright Dissertation Scholarship to research in Japan.
Marcela López Bravo (M.A. 2016) earned her Ph.D. in International Studies at Waseda University in Tokyo, Japan. She is the Deputy Director of the Morikami Museum and Japanese Gardens.
Michaela Prostak (M.A. 2018) is a Ph.D. student in Religious Studies at Brown University. Michaela is currently studying at a special Classical Japanese/Kanbun summer program organized by Princeton University in Venice, Italy. 
Elisa Rómulo Borges (M.A. 2016) is pursuing a Ph.D. in Global and Sociocultural Studies at FIU, researching the Japanese/Okinawan descendants in Cuba. She is a recipient of the prestigious Andrew W.Mellon Foundation Fellowship.
Nanda Singh (M.A. 2019) is working as an Assistant Language Teacher (ALT) for the JET Program, teaching English at a local school in Fukuoka, Japan.
Yiqin Sun (M.A. 2018) is a Ph.D. student in the Department of Philosophy at Sun Yatsen University in Guangzhou, China. Her research focuses on Chinese art and aesthetics. 
Randall Tallent (M.A. 2016) is a J.D. Candidate and Law Aide at Arizona State University studying international law and policy. He is working as an intern in Timor-Leste, focusing on legal research, policy development, and data protection in Asia.
Ashley VeAngela (M.A. 2015) is living and studying in Seoul, South Korea, working as an English language Professor at Joonbu University.